Tickets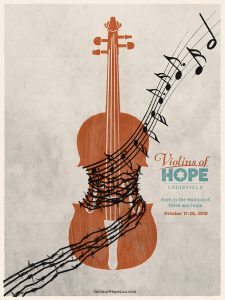 Saturday, October 19, 2019 | 7:30 pm – Violins of Hope at Ogle Center,
Indiana University Southeast – Stem Concert Hall
Samuel Barber: Adagio for Strings
Ernest Bloch: Meditation & Processional for Viola & Piano
Gideon Klein: String Trio
Gustav Mahler: Piano Quartet in A minor
Tickets (free admission; reservations available by beginning of October): https://oglecenter.com/events/special-events/violins-of-hope.php
---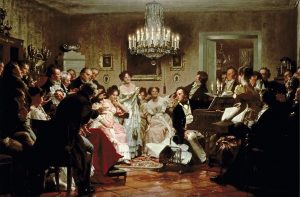 Tuesday, December 10, 2019 | 6:00 pm – Filson Historical Society at Oxmoor Farm
Franz Schubert: Octet in F major, D. 803 for Clarinet, Horn, Bassoon, 2 Violins, Viola, Cello and Bass
Address: Oxmoor Farm, 720 Oxmoor Ave, Louisville, KY 40222
Parking: the field east of the house
Wheelchair accessible
Tickets: Free for Filson Members & $25 for non-members at https://filson.simpletix.com/EventDetails/48523/Time/130328/#.XcLlP-hKg2w
---
Parlor Series 2019-2020
All Parlor Series Concerts will include a reception 30 minutes prior to the event start time with sweets generously sponsored by Macaron Bar Louisville.
January 23: Oxmoor Farm
February 13: Conrad-Caldwell House Museum
$30 Single | $55 Subscription for 2 Concerts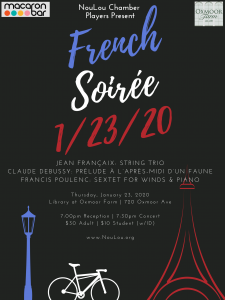 Thursday, January 23, 2020 | 7:30 pm – French Soirée at Oxmoor Farm
Jean Françaix: String Trio
Claude Debussy: Prélude à l'après-midi d'un faune (arr. Flute, Clarinet & Piano)
Francis Poulenc: Sextet for Winds & Piano
Tickets: $30 Single, $55 Subscription
Address: Oxmoor Farm, 720 Oxmoor Ave, Louisville, KY 40222
Parking: the field east of the house
Wheelchair accessible (please call in advanced with number below)
Contact Info: Dr. Cecilia Huerta-Lauf at 615-417-2110 or NouLouChamberPlayers@gmail.com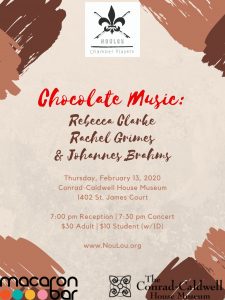 Thursday, February 13, 2020 | 7:30 pm – Parlor Series #2 at Conrad-Caldwell House Museum
Rebecca Clarke: Two Pieces for Viola & Cello
Rachel Grimes: Selections from Music from Egon Schiele
Brahms: String Sextet No. 2 in G Major, Op. 36
Tickets: $30 Single, $55 Subscription
Address: Conrad-Caldwell House, 1402 St. James Court, Louisville, KY 40208
Parking: On-street parking available at W Magnolia Ave & St. James Court. Off street parking available at the parking lot of West End Baptist Church at 1400 S 4th Street, Louisville, KY 40208.


---
Dearest Friends and Supporters,
Out of an abundance of caution for the safety and health of all, we are postponing MahlerNacht at Oxmoor Farm to May 10th, which is Mother's Day!
Details:
Mahler for Mother's Day at Oxmoor Farm!
Sunday May 10th, 2020
6pm light reception
6:30 performance
The Library at Oxmoor Farm
820 Oxmoor Ave.
In light of the many event cancellations happening locally and around the world, we are fortunate that as a small and nimble arts organization, we will still be able to make this performance happen in the same magnificent venue, still featuring the incredible Emily Albrink as soprano soloist, just a few weeks later than originally planned. We are truly grateful for your continued support!
If you have any questions, please be in touch with us at noulouchamberplayers@gmail.com and we will respond as soon as possible.
Thank you so much and we look forward to making beautiful music for you on May 10th!
Best,
Gabriel, Laura, and Cecilia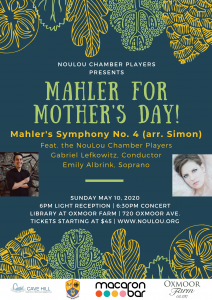 Sunday, May 10, 2020 | 6:30 pm – Mahler Symphony No. 4 with Gabriel Lefkowitz at Oxmoor Farm
NouLou Chamber Orchestra with soprano Emily Albrink
Mahler for Mother's Day Ticket Info
Contact Info: Dr. Cecilia Huerta-Lauf at 615-417-2110 or NouLouChamberPlayers@gmail.com
Address: Oxmoor Farm, 720 Oxmoor Ave, Louisville, KY 40222
Parking: the field east of the house
Wheelchair accessible (please call in advance with number below)


---
Contact Us
To speak with a NouLou director for any ticket or booking inquires, contact Dr. Cecilia Huerta-Lauf at 615-417-2110 or NouLouChamberPlayers@gmail.com

© 2020 NouLou Chamber Players, Inc.
Site Content by Cecilia Huerta-Lauf