Tickets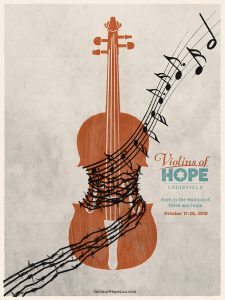 Saturday, October 19, 2019 | 7:30 pm – Violins of Hope at Ogle Center,
Indiana University Southeast – Stem Concert Hall
Samuel Barber: Adagio for Strings
Ernest Bloch: Meditation & Processional for Viola & Piano
Gideon Klein: String Trio
Gustav Mahler: Piano Quartet in A minor
Tickets (free admission; reservations available by beginning of October): https://oglecenter.com/events/special-events/violins-of-hope.php
---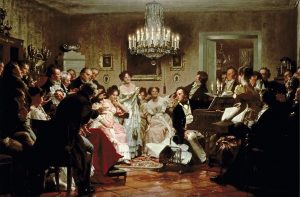 Tuesday, December 10, 2019 | 6:00 pm – Filson Historical Society at Oxmoor Farm
Franz Schubert: Octet in F major, D. 803 for Clarinet, Horn, Bassoon, 2 Violins, Viola, Cello and Bass
Address: Oxmoor Farm, 720 Oxmoor Ave, Louisville, KY 40222
Parking: the field east of the house
Wheelchair accessible
Tickets: Free for Filson Members & $25 for non-members at https://filson.simpletix.com/EventDetails/48523/Time/130328/#.XcLlP-hKg2w
---
Parlor Series 2019-2020
All Parlor Series Concerts will include a reception 30 minutes prior to the event start time with sweets generously sponsored by Macaron Bar Louisville.
January 23: Oxmoor Farm
February 13: Conrad-Caldwell House Museum
$30 Single | $55 Subscription for 2 Concerts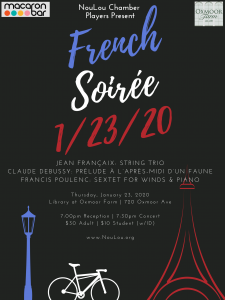 Thursday, January 23, 2020 | 7:30 pm – French Soirée at Oxmoor Farm
Jean Françaix: String Trio
Claude Debussy: Prélude à l'après-midi d'un faune (arr. Flute, Clarinet & Piano)
Francis Poulenc: Sextet for Winds & Piano
Tickets: $30 Single, $55 Subscription
Address: Oxmoor Farm, 720 Oxmoor Ave, Louisville, KY 40222
Parking: the field east of the house
Wheelchair accessible (please call in advanced with number below)
Contact Info: Dr. Cecilia Huerta-Lauf at 615-417-2110 or NouLouChamberPlayers@gmail.com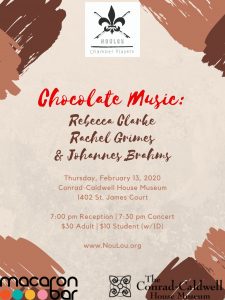 Thursday, February 13, 2020 | 7:30 pm – Parlor Series #2 at Conrad-Caldwell House Museum
Rebecca Clarke: Two Pieces for Viola & Cello
Rachel Grimes: Selections from Music from Egon Schiele
Brahms: String Sextet No. 2 in G Major, Op. 36
Tickets: $30 Single, $55 Subscription
Address: Conrad-Caldwell House, 1402 St. James Court, Louisville, KY 40208
Parking: On-street parking available at W Magnolia Ave & St. James Court. Off street parking available at the parking lot of West End Baptist Church at 1400 S 4th Street, Louisville, KY 40208.


---
Dearest Friends of NouLou,
It has become clear that our responsibility and directive as an organization committed to the health and well-being of our community is to postpone our springtime concerts to next season, and thus, we are postponing Mahler at Oxmoor Farm to a later date TBD (most likely in the fall.)
Please let us know which of the following options you would like to pursue:
1)
We are happy to offer a full refund on your ticket purchase through May 10, 2020.
Please contact
noulouchamberplayers@gmail.com
and we will respond as soon as possible.
2)
We are gratefully accepting tax-deductible donations in the amount of your ticket purchase.
(This donation can be redeemed for the same tier of ticket when this performance happens, and we do mean "when"!)
Thank you for being such wonderful supporters of music and musicians in Louisville. This is a difficult time for those of us who identify a large part of our purpose in life as bringing joy and a sense of community to rooms full of people, but we are adapting and trying to re-invent ourselves and our profession to bring these same feelings to people in their living rooms during this time of social distancing!
If you haven't seen it yet, you may enjoy this video of Gabe and Julia Noone (who has also performed with the NouLou Chambers several times in the past) performing Prokofiev's
Sonata for Two Violins
in their home:
https://www.youtube.com/watch?v=ilg8qMdCtns
All the best,
\Gabe, Cecilia, and Laura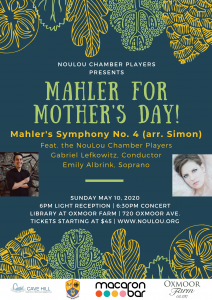 Sunday, May 10, 2020 | 6:30 pm – Mahler Symphony No. 4 with Gabriel Lefkowitz at Oxmoor Farm
NouLou Chamber Orchestra with soprano Emily Albrink
Mahler for Mother's Day Ticket Info
Contact Info: Dr. Cecilia Huerta-Lauf at 615-417-2110 or NouLouChamberPlayers@gmail.com
Address: Oxmoor Farm, 720 Oxmoor Ave, Louisville, KY 40222
Parking: the field east of the house
Wheelchair accessible (please call in advance with number below)


---
Contact Us
To speak with a NouLou director for any ticket or booking inquires, contact Dr. Cecilia Huerta-Lauf at 615-417-2110 or NouLouChamberPlayers@gmail.com

© 2020 NouLou Chamber Players, Inc.
Site Content by Cecilia Huerta-Lauf